FastDirect Has Ecommerce!
FastDirect Communications has partnered with Pace to make it easy for your school to accept credit card, debit card, and ACH (electronic checks) payments. Parents can easily pay for anything from tuition to yearbooks!
Integrated
The parent-school connection is strengthened when parents are able to pay for a variety of school-related fees without having to leave FastDirect. All major credit cards and debit cards are accepted and payments can be sent directly from bank accounts (ACH). When a parent makes an electronic  payment, the financial transaction file is updated in real time, requiring no data entry by the school.
Reporting
In addition to viewing FastDirect's Finance transactions and balances, administrators also have access to robust reports on the Pace Insight portal – a business intelligence engine that gathers disparate payment data and transforms it into actionable information. You choose how you want the data aggregated into intuitive reports. Follow a transaction from initiation to deposit; making bank reconciliation a breeze. Your school has access to custom and turn-key reports!
Pace
Pace is a premiere financial technology company providing fully-integrated access and business intelligence engines that create an elegant, fully-compliant payment interface for your school. A robust data warehouse, bank reconciliation tool, and enterprise reporting suite transform disparate data points into actionable analytics for your school.
FDpay in Short
Convenience for Parents – making online payments is fast and simple
Credit Card, Debit Card, and ACH payments are updated immediately in FastDirect's Finance component
ACH payments can be scheduled or made on demand (in a future release)
PACE reporting for your school, church, and district
FDpay in the Parent Portal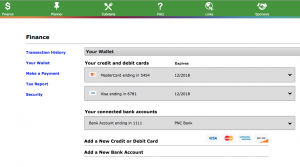 The FastDirect Parent/Guardian account is easy to navigate with all pertinent information within a couple clicks. The Finance tab offers parents the ability to make payments, check balances, view transactions, add or remove credit card information and print out tax reports.