A New Year is Right Around the Corner!
#1 FDpay:
We have partnered with Pace Payment Systems to make it easy for your school to accept credit card and debit card payments from parents for anything from tuition to yearbooks! Parents are able to pay for a variety of school-related fees without having to leave their FastDirect parent account and all major credit cards and debit cards are accepted!.
Here are some of the great features of FDpay:

Convenience for Parents – making online payments is fast and easy
Credit & Debit Card payments updated immediately in FastDirect (no more dual entry!)
ACH payments can be scheduled or made on demand
PACE reporting for the school/church and district

Contact HelpDesk to learn more about FDpay!
#2 Timer:
This free feature allows you to track attendance hours for preschool, daycare, before and after school care, and more! When combined with Finance, you are able to bill a family's account directly with just a click!  This free feature allows you to track attendance hours for preschool, daycare, before and after school care, and more!  When combined with Finance, you are able to bill a family's account directly with just a click!
Here are some of the amazing features of this robust component:

One click clocking in or clocking out of students
Multiple rate groups, as well as multiple student groups
Customizable rate settings to meet your school's unique programs
Bill directly to a family's finance account
Exportable reports are easily retrieved and detail all previous charges and times

To find out more about Timer and how it can help transform your school's tracking of preschool or extended care hours, contact HelpDesk to schedule an appointment!
#3 Primary/Secondary:
Taking attendance for multiple homerooms has now been made much easier with the new Primary/Secondary feature! If your school has multiple homerooms for different preschool schedules, this feature will help save you time and confusion!
This feature is also helpful for:

Principals who also have a homeroom class
Teacher aides who help out the homeroom teacher
Middle school teachers who use block scheduling

Here are some FAQ links to explain Primary/Secondary accounts and help get you started:
#4 Monitor Icon for Staff:
For many of our schools, keeping track of students who come in late, leave early, or leave during the middle of the day often requires the help of someone who is not always an administrator.  With a principal's request, we can give the Monitor icon to a non-administrator on the staff list, such as a volunteer, to help out with tracking attendance in the school's front office.
The Monitor icon will allow this person to mark students as absent, tardy, leaving early, and middle outs as well as leave notes for any attendance issues.  If this is something you are interested in having at your school, please have the principal send an FDmail message to HelpDesk with this request and the name of the staff person who will need the Monitor icon added.
#5 Parent Form Time Stamp:
Registration is an important time of the year for schools and we want to help with that process.  We have added a verification report to help track when parents saved their parent information.
The system will date stamp when a parent has clicked the 'Save Changes' button at the bottom of their parent information form.  To view a report that shows the date stamps, follow these steps:

Click on Reports
In the left hand menu, click on Parent Data
In the left hand menu, click on Login Activity Report

This report will be helpful when a school needs to make sure all parents are verifying their personal information in FastDirect, especially around Registration or at the beginning of the year.
Checklists for the New School Year! School is right around the corner and it is time to get your ducks in a row! FastDirect wants to make sure your school is ready.  In addition to completing the Summer Transition steps, there are several other items to be addressed.  To stay on top of the many features and settings that need to be reviewed for the start of school, we have created a checklist for administrators, teachers and parents.  Also, don't forget about our timeline to help you stay on track and make sure your school is ready to go for next year!
HelpDesk is dedicated to helping make the Summer Transition an easy process and allow you more time to enjoy your summer break. Please contact HelpDesk to set up a time when you will be ready to go through the steps. Once these steps have been completed, please notify HelpDesk so that they can move your school forward to the new school year.
With the addition of the Summer Transition steps, we thought we would include a Summer Timeline! The timeline is designed to help you stay on track and make sure your school is ready to go for next year! To view the timeline, click here!
We are highlighting the features we believe are key to keeping parents connected and informed as well as strengthening your school's mission!
Step 1 – Make Communication Convenient!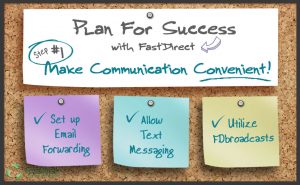 Set Up Email Forward
Allow Text Messaging
Utilize FDbroadcasts
Step 2 – Incorporate Your School's Branding!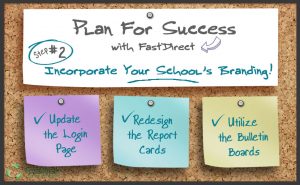 Update the Login Page
Redesign the Report Cards
Utilize the Bulletin Boards
Step 3 – Make Important News Accessible!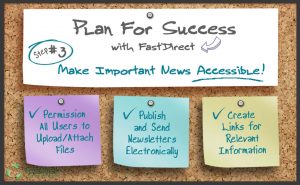 Permission All Users to Upload/Attach Files
Publish and Send Newsletters Electronically
Create Links for Relevant Information
Are you a new administrator at the school or do you feel that you could benefit from some additional training? If you are interested in receiving new or additional training, let HelpDesk know and we will schedule a time for a phone training session.
Free Training and Tech Support
New to FastDirect Communications? Our newsletter is just one small way we help our schools. Our free training and tech support is a large part of what we offer. Read more!