Let's get ready for a great, new year!
#5 Technical Advisory:
We have developed a Technical Advisory procedure for contacting our schools if we are unable to contact them through FastDirect.  Please review the email address list found in Settings and make any necessary changes. We will contact our schools through email if there is a problem with our domain FASTDIR.COM or with the phone system at our offices.
Here are the steps to review your Technical Advisory contacts:

Go to Settings
The second option under the heading 'My School Information' is the Technical Advisory contacts list.  Click 'Edit Contacts' to make changes
Once in Edit mode, you can either have email addresses removed or add new ones
#4 'Remove' Button for Empty Courses in Show Who Teaches What:
If you are assigning courses in Show Who Teaches What and need to remove any unwanted courses, administrators can now remove those empty courses!  No more need to contact HelpDesk!
To remove an empty/unused course, follow these steps:

Go to Grades
Click on Show Who Teaches What
Select an instructor's name in the drop down, then click 'Edit'
At the bottom of the list of courses might be unused or empty courses (highlighted in pink).  On the far right of these courses are 'Remove' buttons.  Click 'Remove' to delete the empty course

If an instructor has a course that is no longer needed but you do not see a Remove button, then that course might still have students assigned to it.  You will need to remove the students first before you can remove the course.
If there is an empty course but no remove button, then that course has grades (report card or grade book) entered and can not be removed by an administrator.
#3 Parent Attendance Report:
For parents, viewing a student's attendance has never been easier!  Along with the other viewable reports (grade book, report cards, missing assignments), you can now allow parents to view their child's attendance calendar!
Here are the steps to turn on attendance calendar viewing for parents:

Go to Settings
In the left hand menu, click on People
Check mark the option for Allow Parents to View Attendance Report
Click Save Changes

If you do not see this report, contact a school administrator to request that this feature be added to your school's site.
#2 Updated Planner and Assignments Calendar:
Upgrades to Planner mean better communications with your school families! FastDirect Communications bulletin boards and calendars in Planner are now mobile friendly, ideal for families on the go. Additionally, Assignment Calendars have never looked so good! We've made some improvements to the Assignments Calendar which will further help strengthen the communication between school and home.
Our Planner boasts open and close filters for those bulletin boards you wish to keep open for future reference. This enhancement gives administrators, teachers and parents, the ability to view all pertinent bulletin boards at once. Remember, FDmail messages can be easily sent directly from the Planner as well! 

When teachers publish grade book events to their personal calendar, now they present complete grade book assignment details too: event name, date, description, links, attached files, and teacher, course and course section descriptions.
Placing links for important documents on bulletin boards saves time and money by getting your school office out of the printing business! Our File Upload feature makes it easy to share your student handbook, registration forms, school supplies lists & summer reading recommendations, with your families. Want it for the fridge? Our print command displays the selected bulletin board or link in a new window for parents to print!
We've also greatly improved the Assignment Calendar feature! Parents can easily view each of their children's assignments from the grade reports table with a quick click! Each child has their own calendar which reflects all assignment information that has been input by their teachers. This calendar displays more details than before: event name, date, description, links, attached files, and teacher, course and course section descriptions.
#1 Report Cards and Attendance Reports for Transfer Students:
For students that have transferred out of the current school year, administrators are now able to access their attendance reports, as well as grade book and report card grades without having to move them back into their homeroom.
Here is how administrators can access information for Transfer students:

Go to Grades
In the Select Instructor drop down (the one next to 'View Instructor's GB/RC Input', select the last option for Transfers (with current school year)
Click 'View Instructor's GB/RC Input'
To view Grade Book grades, select the student's name, the grading period and the type of GB report
To view Report Card grades, click the 'View Report Cards' button
To view Attendance, go to Calendar, then select 'Individual Attendance Record'.  There will be a drop down to View/Edit all Transfer students from the current year.
Checklists for the New School Year! School is right around the corner and it is time to get your ducks in a row! FastDirect wants to make sure your school is ready.  In addition to completing the Summer Transition steps, there are several other items to be addressed.  To stay on top of the many features and settings that need to be reviewed for the start of school, we have created a checklist for administrators, teachers and parents.  Also, don't forget about our timeline to help you stay on track and make sure your school is ready to go for next year!
HelpDesk is dedicated to helping make the Summer Transition an easy process and allow you more time to enjoy your summer break. Please contact HelpDesk to set up a time when you will be ready to go through the steps. Once these steps have been completed, please notify HelpDesk so that they can move your school forward to the new school year.
With the addition of the Summer Transition steps, we thought we would include a Summer Timeline! The timeline is designed to help you stay on track and make sure your school is ready to go for next year! To view the timeline, click here!
New Website + Free Classroom Posters! We have redesigned our website and we're quite smitten with it! To celebrate the new and improved FastDirect Communications website, we are offering some free poster downloads for our schools!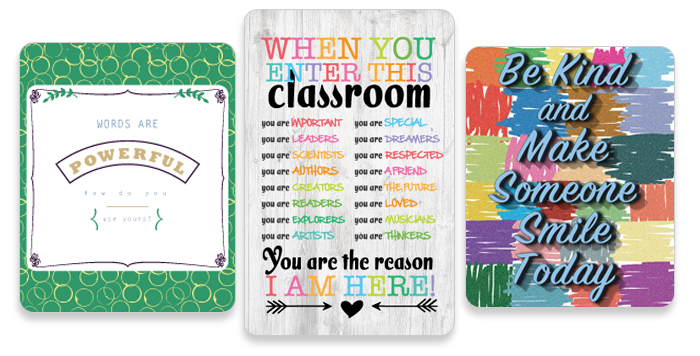 Free Training and Tech Support
New to FastDirect Communications? Our newsletter is just one small way we help our schools. Our free training and tech support is a large part of what we offer. Read more!